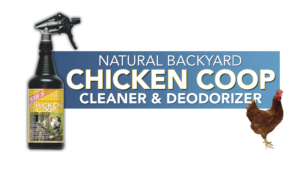 Sold Exclusively through Tractor Supply!
Chicken manure is very high in nitrogen content, a factor which leads to the emission of high concentrations of ammonia. As a result, toxic concentrations of ammonia can build up in coops. MICROBE-LIFT/CCC&D helps to remove the generation of ammonia from waste, improving bird health & reducing maintenance.
MICROBE-LIFT/CCC&D incorporates the action of stable, highly-active microbial cultures specifically selected for rapid uptake of ammonia ions with nontoxic ingredients that capture typical odors associated with chicken waste & litter.
Specific Benefits
Eliminates ammonia odors from chicken manure
Improves conditions for better health
Accelerates breakdown of litter & waste
Increases nutrient value of litter for compost
Effective on all types of chicken waste
Convenient to apply by simply spraying directly on all surfaces & litter
Utilizes natural microbes & proprietary odor neutralizers to maintain a cleaner, healthier environment in coops & yards
Safe for users, poultry & the environment
Product is readily biodegradable
Sizes
32oz. Spray Bottles
Gal (3.785 L) Jug w/Pump